10 Most Promising Blockchain Solution Providers - 2020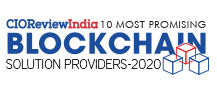 The technology of Blockchain has come a long way in the past decade from just being a concept limited to crypto-currencies to its current status of mainstream technology that is proving to be a game-changing business tool across many industry verticals. Though banking and finance are seen as the forerunner in leveraging Blockchain, today every industry is exploring opportunities to harness the potential of Blockchain. These days, Blockchain is playing a crucial role as an invisible force supporting the online activities and digital financial transactions by creating a secure digital space. Blockchain technology is believed to completely transform the way businesses are being conducted right from financial operations to managing the assets. However, considering the scope of Blockchain with applications across different industries right from retail, insurance, supply chain to manufacturing and healthcare, along with the availability of large number of technology players in the market it is crucial for businesses to make a wise choice in terms of reliable technology partner to fully leverage the Blockchain technology and achieve success.
Enabling enterprises to choose the right vendor to work with, CIOReviewIndia proffers a list of "10 Most Promising Blockchain Solution Providers". This compact list displays an inventory of skilled vendors with an industry rich experience, technically adept teams and a proven track record. A panel consisting of prominent CEOs, CIOs, Industry Analysts and CIOReviewIndia editorial team has meticulously researched and locked down on the final 20 vendors who we firmly believe can assist businesses to achieve their business goals.
We present to you CIOTechOutlook 10 Most Promising Blockchain Solution Providers - 2020.
Top Blockchain Solution Providers
| Company Name | Company Description |
| --- | --- |
| Algorythmix | Delivers innovative traceability platform which allows multi node setup and enables sharing of KYC documents, and Asset Tokenization. |
| | |
| --- | --- |
| Antier Solutions | Builds scalable, asset agnostic applications such as white label exchange platforms (centralized, decentralized and P2P), smart wallets, ICO, STO, tokens and other enterprise blockchain solutions. |
| Auxesis | Builds and deploys Private Blockchain solutions with its enterprise grade blockchain infrastructure focussing on product readiness in terms of security, performance and scalability. |
| Colan Infotech | Offers industry specific Blockchain solutions with Decentralized Application (DAPP) and Shared & Distributed Ledger developments. |
| Digiledge | Provides enterprise grade Blockchain Solutions for banking, insurance and supply chain using IoT & Artificial Intelligence. |
| JK Technosoft | Caters to clients with blockchain solutions that is delivered through a consulting cum implementation-based approach. |
| Lynked.World | Offers Blockchain platform which verifies digital identity, education and professional experience. |
| Nucleus Vision | Focuses on capturing and providing previously unaccessed data to retailers and other 'brick and mortar' businesses through blockchain and real-time sensor technology. |
| Sofocle | Aids companies innovate with cutting-edge blockchain technologies and delivers services across Blockchain Consulting, Blockchain Development, and Hyperledger Development. |
| ThinkSmart | Develops platform based on functional networks and offers services across Cryptocurrency Development, Smart Contract Development, Dapp Development, Ethereum, among others. |