20 Most Promising Blockchain Startups - 2020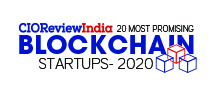 The global blockchain market is expected to becomeworth USD 23.3 billion by 2023, growing at an impressive CAGR of 80.2 percent till 2023, according to a report by MarketsandMarkets. The market is primarily driven by the increased demand for faster and transparent transactions across various industries such as Banking, Financial Services, Insurance, etc. Government, E-commerce, Retail, IT and Telecommunications are considered to be the fastest growing industry verticals as far as blockchain technology is considered across the globe. When it comes to the market scenario in India, the market looks promising following the Supreme Court's order to revoke ban on the cryptocurrency in the country that was imposed by RBI in 2018. This is considered as a welcome move by blockchain investors and innovators as it would create robust ecosystem for blockchain start-ups in the country.
However, while the market is growing rapidly, various factorssuch as regulatory compliances, scalability,security, technical complexities have emerged as major impediments for businesses in the implementation of technology. Helping businesses choose the right technology partner who can help them harness the potential of blockchain technology, CIOReviewIndia proffers a list of "20 Most Promising Blockchain Startups - 2020". This compact list displays an inventory of skilled vendors with an industry rich experience, technically adept teams and a proven track record. A panel consisting of prominent CEOs, CIOs, Industry Analysts and CIOReviewIndia editorial team has meticulously researched and locked down on the final 20 vendors who we firmly believe can add value to clients' business.
We present to you CIOTechOutlook 20 Most Promising Blockchain Startups - 2020.
| Company Name | Company Description |
| --- | --- |
| SenseQue | Customer centric digital solutions using cutting-edge technologies like .Net Core, JS Frameworks, Azure, AWS and CMS platforms. |
| Company Name | Company Description |
| --- | --- |
| Chakravuyha | A software programming advancement company giving IT solutions for enterprises and clients around the world. |
| | |
| --- | --- |
| Birthvenue Growth Solutions | Develops blockchain solutions and platforms to empower businesses to get into new technology spaces. |
| CoinSwitch | Has built blockchain based decentralized cryptocurrency exchange aggregator platform. |
| Debut Infotech | Mobile App & Digital Product Development company that leverages Blockchain, IoT, AI, and other cutting-edge technologies to deliver a range of services. |
| Elemential Labs | Building a blockchain development ecosystem focused on making enterprise adoption a smoother experience for both the developer and the enterprise. |
| KrypC | Has filed multiple patents related to certain foundational methods driving the blockchain concept and has developed and deployed multiple solutions for global customers across many domains. |
| MDxBlocks | Enabling cutting-edge security, decentralization, and transparency across all the business processes with Distributed Ledger Technology (Blockchain) & Digitizing the manual processes into... |
| MindDeft Technologies | Areas of expertise include the likes of Hyper Ledger, Smart Contracts, Ethereum, Enterprise Portals, Cryptocurrency Wallets and Machine Learning among several others. |
| mPHATEK | Providing cutting edge Solutions and Consulting around Digital Transformation, AI, IoT, Big data, RPA along with conventional IT services. |
| Primechain Technologies | Blockchain solutions to minimise fraud and maximise efficiency, security & transparency in supply chains, healthcare, global money systems, financial technologies, democratic elections, auction of... |
| SigniTeq Services | Technology Services Company focusing on Blockchain, Analytics, Cloud, Artificial Intelligence & Machine Learning and other emerging areas in IT. |
| Signzy | AI powered RPA platform for financial services that works with over 90+ FIs globally including the 4 largest banks in India and a Top 3 acquiring Bank in the US. |
| Sofocle Technologies | Experts in emerging technologies like Blockchain, Smart Contracts and IoT, Sofocle has implemented various Blockchain applications and solutions for enterprises, startups and governments across... |
| Somish Blockchain Labs | Works on a wide variety of blockchain use-cases like P2P Insurance, Aviation Maintenance Log, Subsidy Distribution, Crisis Fund Distribution, Bill Discounting, Tokenized Fund Transfer and many others. |
| Unocoin Cryptoassets & Blockchain Company | Cryptoassets & Blockchain company with over a million customers who make it easy to buy, sell, store, use & accept bitcoin securely in India. |
| WandX | Multi-blockchain DEX platform with a unique risk-hedging product that enables bulk token trading. |
| Zebi | A full-stack core-blockchain company founded by Silicon Valley veterans that operates in the entire blockchain ecosystem – infrastructure and products. |
| Zebpay | Ensures battle tested safety, clutter free beautiful designs and security nets to make stressfree crypto investments. |
| Zuron Fintech | Blockchain Based Invoice Discounting Platform that provides access to funds against approved invoices in quick and secured manner. |