10 Most Promising Startups in Blockchain Technology - 2017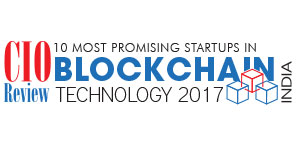 The blockchain technology is one of the most rapidly rising technologies in the information technology market today. Research and Market forecasts the global Blockchain market to become USD 2,312.5 million by 2021. The market is experiencing high growth rate due to its ability to cut down risks associated with identity theft and fraud and provides transparency, scalability, and immutability. Various industry verticals such as Banking, Financial Services, and Insurance (BFSI), government & public sector, healthcare & life sciences, retail & e-commerce, automotive, media & entertainment, and others can leverage Blockchain technology.
The Internet of Things (IoT) is further anticipated to contribute a vital part in the increasing demand for Blockchain technology. For example, the banking sector is expected to propel the demand of blockchain technology owing to its continuous efforts taken to make its facilities and services digitized in the near future. The key sectors with high demand for this technology include smart property, smart contract, non-financial sector, music industries, and healthcare, further boosting the global blockchain technology market. Blockchain technology holds the ability to disrupt the way the financial sector works but will also transform many other industries including consumer goods, technology, and media & telecom among others.
However, even though the industry is growing, factors such as security, privacy & control, technical understanding about the blockchain concept, factors such as lack of awareness about the Blockchain and uncertain regulatory status are the major restraints in the overall growth of the market. In this scenario, to assist businesses in finding right Blockchain solution provider, CIOReview presents "10 Most Promising Startups in Blockchain Technology 2017." A distinguished panel comprising of CEOs, CIOs, VCs, analysts, and the CIOReview editorial board has selected the top Startups. In our selection process, we looked at their capability to fulfill the need for cost-effective, technologically advanced and flexible solutions that would cater to the pressing needs of today's businesses.
We present to you CIOTechOutlook 10 Most Promising Startups in Blockchain Technology - 2017.
| | |
| --- | --- |
| Belfrics | A bitcoin trading company and a digital bitcoin wallet that provides a bitcoin trading portal for users to buy and sell bitcoins |
| Cashaa | A provider of blockchain powered forex platform offering exchange and money transfer services between fiat and cryptocurriencies |
| DFrozenSoft | A provider of Blockchain (Ethereum), Cryptography and Privacy Protection services |
| Digiledge | A provider of blockchain platform for fintech and insurance tech, Internet of things, supply chain and logistics |
| Flitpay | A Bitcoin marketplace that allows users to Buy and Sell Bitcoin in India making peer-to-peer transactions faster |
| Humaniq | A provider of financial services to the unbanked based on Blockchain technology and biometric identification systems |
| QzIP | A company that creates, manages & automates enforcement of Intellectual Prop¬erty rights (IPR) for Businesses in India and facilitates enforceable and transparent B2B transactions between trading... |
| SmartChainers | A company providing solutions in Blockchain technologies such as Ethereum, Multichain, Chaincore and Hyperledger |
| Snapper Technologies | A provider of services such as Research, Consulting, Application Development, Application Deployment for Artificial Intelligence, Blockchain and Cybersecurity |
| StaTwig | A startup that uses Blockchain and IoT technology to solve the problem of global wastage in vaccines and food caused due to the inefficiencies in Supply Chain |